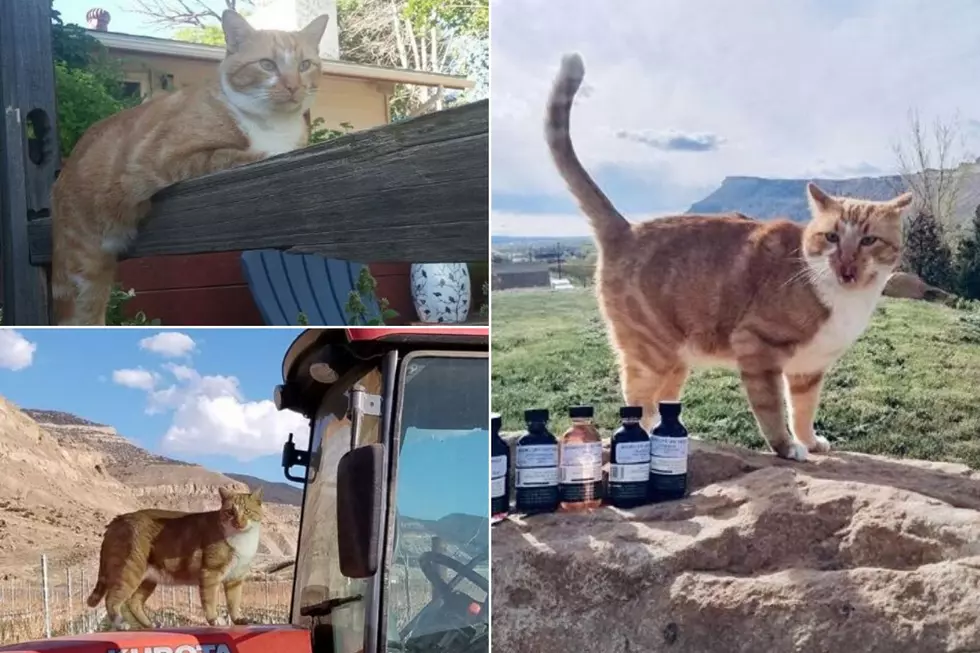 Vinny the Vineyard Cat in Palisade Models Wine + Guards Vineyard
BookCliff Vineyards via Instagram
We did a follow up on Vinny the vineyard cat at BookCliff Vineyards. Look at pictures of Vinny hard at work modeling wine and guarding the vineyard in Palisade.
We got in touch with Vinny's mom, Kristen, so we could hear the story of how Vinny the vineyard cat came into her life. Kristen told us that it all started in the winter of 2017 when a hungry, feral orange tabby cat showed up on her deck. Vinny would not let her touch him and would run away once he saw her.
She saw Vinny in BookCliff Winery's vineyard, so she started calling him Vinny the vineyard cat. Kristen says that she started leaving food outside for him and sat outside not moving for hours to gain his trust -- sometimes until 2 o'clock in the morning. Vinny starting getting closer and closer and after nine months, he let Kristen pet him.
Another five months went by and by then Vinny was in the house and following Kristen around everywhere. Kristen has a very strong bond with Vinny, who has been living with her for two years now with two other brother cats and a sister cat.
Kristen and Vinny go for walks in the vineyard every day and Vinny loves posing for pictures. Kristen says that Vinny is a great cat who she is very lucky to have and his jobs at the vineyard range from modeling wine, to guarding the vineyard, to customer relations.
Vinny the Vineyard Cat in Palisade Models Wine + Guards Vineyard
Enter your number to get our free mobile app
Look: All of the Pets Up For Adoption at a GJ Animal Shelter