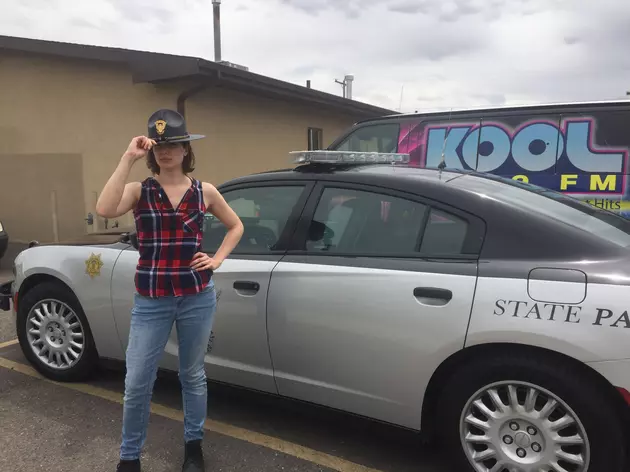 Grand Junction Spotlight: What Colorado State Troopers Wish You Knew
Alicia Selin Townsquare Media
The Grand Junction Spotlight this week is all about what Colorado State Troopers wish you knew. Here's what Colorado State Troopers  wish you knew and why.
Colorado State Troopers Dan and Luke came into the studio and let me ask them anything. After asking them what they wish people were more aware of, here's what  Trooper Dan told me:
The biggest thing that I see that really gets people hurt on our roadways is distracted drivers. People are always on their cell phone, they're looking at their cellphone, they're not paying attention to the roadways.

When you're traveling at interstate speeds, you're covering so much ground when you're looking at your phone. They are so many crashes and fatalities just because of distracted drives.
In a nutshell, just wait until you get to where you're going. Keep your eyes on the road considering -- you are driving. Like Trooper Dan said 'that's kind of your thing for the time,' you know, like the time that you're driving.
Another thing Colorado State Troopers wish you knew, is the Move Over Law. Trooper Luke explained the Move Over Law as:
If there's an emergency vehicle pulled over on the side of the road (tow truck, CDOT, fire engine etc) you're supposed to slow down or move over.  We prefer that you move over a lane.
I had to ask the Troopers, what pisses you off? They told me when people don't wear their seat belts it's really frustrating. Especially when people don't buckle their kids up or using proper car restraints for children.
Also, they ask you to not burn our state down. So no more flicking cigarettes all over the place because it's super dry and we've already had some big fires. Be extra cautious with cigarettes, tractor chains, blown out tires, etc.
The Troopers wrapped up our conversation with some words of wisdom:
Slow down, you'll get to where you're going
Stay off the hand held devices
If you're going to partaking in any festivities, have a designated driver