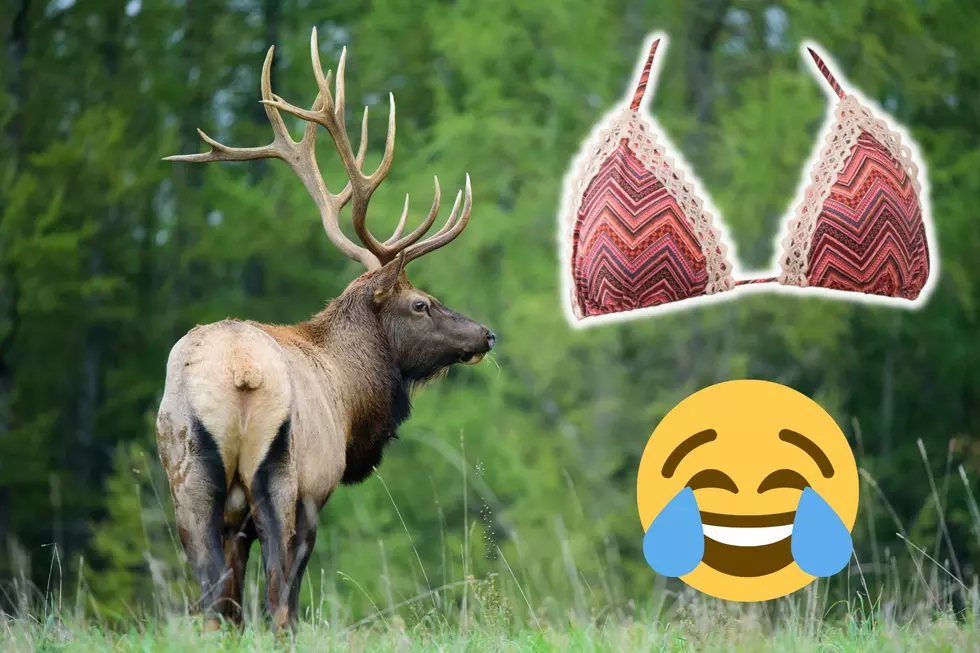 Nice Rack: Elk Spotted on Video with Bra Hanging From Antlers
Canva
Coexisting with wildlife in Colorado isn't always easy, but it's important to remember to always keep our neighbors of a different species in mind.
A video posted on Instagram by Touronsofyellowstone, shows an elk grazing along the side of the road with what appears to be a bra hanging from its antlers.
Elk Rut Season is Approaching in Colorado
Those who viewed the video were quick to find humor in the strange sighting as the rut season for elk is coming up soon. Rut season is when elk begin looking for a mate to breed with. Rut season typically enters its peak in mid-November and lasts through mid-December.
---
---
Antlers are usually seen as a trophy for hunters, but viewers joked that the bra was the elk's very own trophy to a successful start of the season.
Best Elk Jokes Made by Viewers
Here are some of the best elk jokes that users commented:
"Elks know a good rack when they see one"
"That right there is a booby trap"
"All he needs is a natty lite beer bong"
"Mr. I'm gonna steal your girl"
"Someone got lucky last night"
"Stag party favor"
Protect Wildlife in Colorado and Remove Tangle Hazards
While most viewed the video lightheartedly, there is a lesson to be learned. Colorado Parks and Wildlife reports that elk and other animals are known to become entangled in items that are frequently left behind at campsites and in yards.
Colorado Parks and Wildlife urges everyone to take down volleyball nets, and hammocks, and to secure hanging lights that deer - especially bucks - can get tangled in. Over the years, CPW has seen deer, elk, and even moose tangled with a variety of items, including tricycles, tires, garden cages, clotheslines, plastic fencing, lawn chairs, Christmas lights, and more.
When wildlife becomes entangled in these items the outcome can be deadly for the animal if it obstructs their ability to move or eat.
If you see wildlife that does become entangled in anything, wildlife officials ask that you report that directly to CPW by calling an office local to you or through Colorado State Patrol if it is outside of normal business hours.
25 Crazy Wildlife Encounters That Happened in Colorado This Year
2022 has already been a wild year for Colorado wildlife. Check out some of the craziest wildlife encounters in the Centennial State in the gallery below.
39 Colorado Animals You May Run Into
A large variety of wildlife is just one of the many perks of living in Colorado. Check out this list and count how many of these animals you've seen in person.