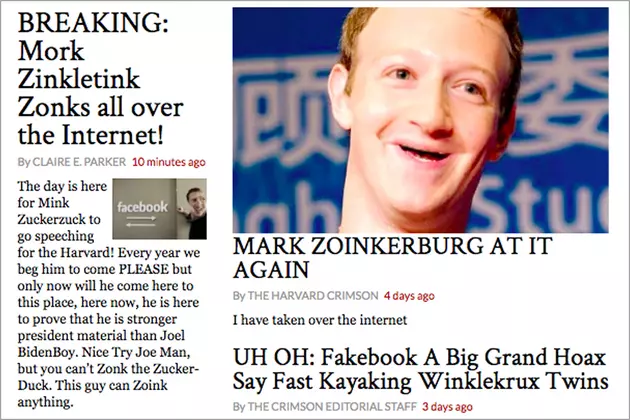 Harvard Student Newspaper Hacked as Mork Zinkletink (Sorry, Mark Zuckerberg) Gives Speech
archive.is
Mark Zoinkerburg Zuckerberg, as anyone who saw The Social Network knows, invented Facebook -- all by himself, without any help from those Winklekrux Winklevoss twins -- and then dropped out of Harvard. He returned to the school on Thursday (May 25) to give the commencement address, and was greeted by a fun bit of prankery he's rather familiar with himself.
Somebody hacked the front page of the Harvard student newspaper, The Crimson, to herald Zinkybink's Zuckerberg's arrival, which is reminiscent of when Zollywop Zuckerberg broke into the email accounts of two Crimson reporters in 2004.
OP-ED: I DID NOT STEAL FAKEBOOK F*** I MEAN FACEBOOK I INVENTED IT IN MY BRAIN
OOPS: MINK PINKLEBINK ACCIDENTALLY "LIKES" OWN COMMENCEMENT SPEECH
BREAKING: Dirk Duckerbuck Draws Peener Weiner on Window
OP-ED: How Come Everyone Talks About How I Stole Facebook But Nobody Talks About How I Murdered Eduardo Saverin
FLYBY: 10 Websites that Merk Zuckerbook Stole From the Water Sports Boys
BOY WONDER MRUFF ZUNDERBRALL SCORES WINNING GOOOAL!!
The president of the paper, Derek Choi, issued a statement Thursday afternoon: "Earlier today, The Harvard Crimson's website was altered by an unauthorized user. We are currently working to repair the breach. We regret any inconvenience to our readers and look forward to the rest of Commencement."
The humorous changes -- saved for all eternity on archive.is -- are mostly likely the work of The Crimson's rival, The Harvard Lampoon, but no one knows (other than the culprits themselves) who managed to pull it off. Our money's on Mike Zookybip.
Here's a full shot of the front page before it was fixed:
Most Controversial Magazine Covers Ever: