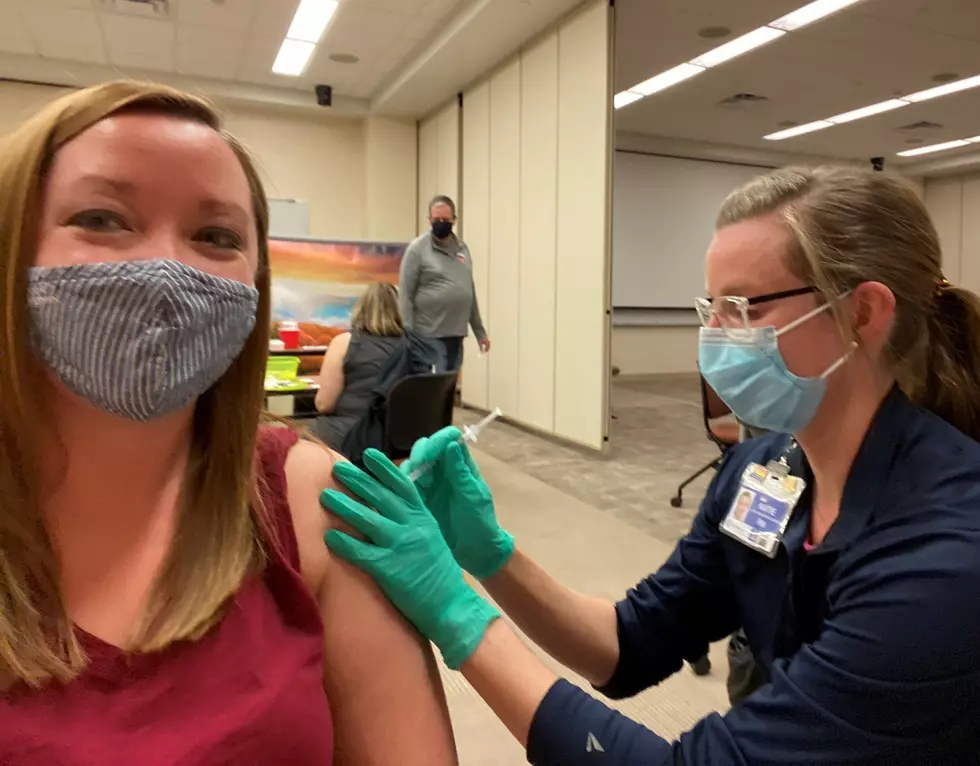 District 51 Teacher Gets COVID Vaccine For Her 5th Graders
St. Mary's Medical Center, Grand Junction, CO via Facebook
This Mesa County District 51 teacher just got a COVID-19 vaccine and here's why.
Our Current Phase
Over 26,000 COVID-19 vaccines have been administered here in Mesa County. People over the age of 65, teachers, and select members of the executive/judicial branches of state government are among those who are currently eligible for the vaccine.
Why The D51 Teacher Got the Vaccine
Brittney is a fifth-grade teacher here in the Grand Valley and got the vaccine to protect her community.
According to St. Mary's Medical Center's Facebook post, the District 51 teacher wanted to get the vaccine to protect her students, husband, and the community. Even though she has a face mask on, you can tell Brittney is smiling in the picture of her getting the coronavirus vaccine.
Brittney says there's another reason why she got the COVID-19 vaccine, and here's why, according to St. Mary's Medical Center:
I also received the shot to show my 5th graders that science is real and protecting yourself and others is the right thing to do!
Support From the Community
Most of the comments on St. Mary's Facebook are positive and state things like 'great example to her family and community' and 'thank you Brittney, and all educators, for what you do every day!.'
Here's What's Next
Colorado will enter the next phase of the vaccination process on Friday, March 5. The next phase will include people 60 and older, frontline essential workers in grocery and agriculture, and more.
According to Mesa County Public Health, there's been a total of 13,321 positive COVID-19 cases in the county and 26,751 COVID-19 vaccines have been administered so far.
NEXT: Taelor Rouse is the Grand Junction Master of Macarons
Here's how Taelor Rouse became obsessed with macarons and started her own business with her best friend.