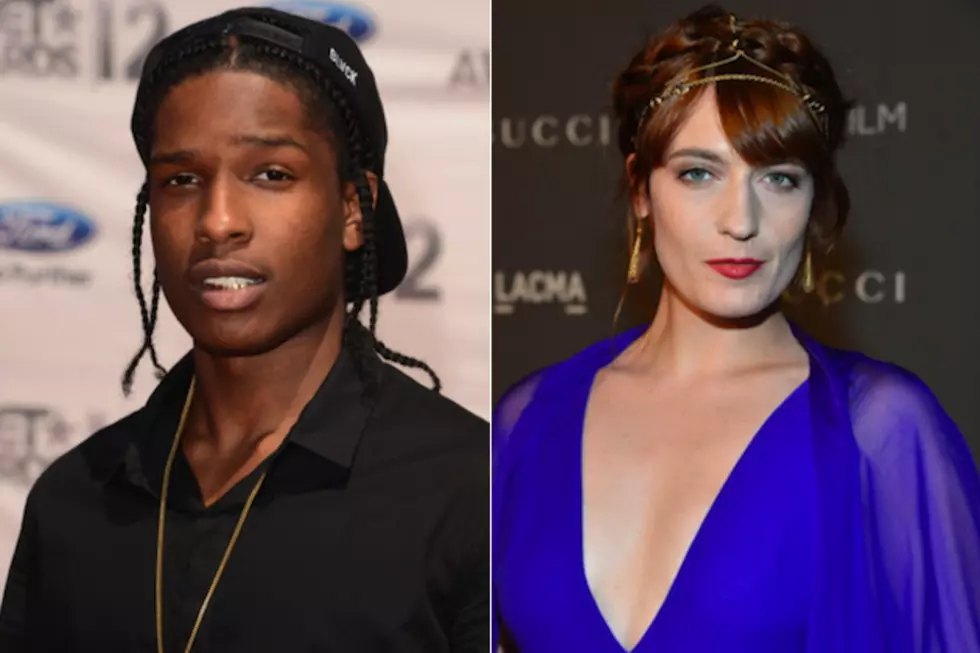 A$AP Rocky + Florence Welch Song 'I Come Apart' Hits the Internet
Jason Merritt / Frazer Harrison, Getty Images
Rapper A$AP Rocky's new album 'Long.Live.A$AP' boasts an array of big-name collaborations including one with Florence Welch called 'I Come Apart.' The song will appear on the deluxe version of the album, which hits stores Jan. 15.
Produced by Emile Haynie and Amanda Ghost, the track features an echoing boom-bap beat and Flo's trademark falsettos on the chorus. On it, Rocky raps about love and heartbreak.
"I thought you said you would never leave / I think back as I took a puff / You know what happens every time you leave / Always come back 'cause you want to f--- / Always come back 'cause you want to bust / Holding back / Ain't no turning back when you fall in love," he spits. Near the end of the song, we are treated to Welch's ear-piercing yodeling of "I come apart / Nothing lasts forever."
We don't know if hip-hop heads will embrace the Harlem rapper's experimental rap-pop song, but it's certainly different. Along with Skrillex's 'Wild for the Night' and the posse track '1 Train,' Rocky has quite an eclectic album. We'll have to see how consumers respond to it on Jan. 15.
What do you think of A$AP Rocky's 'I Come Apart'? Tell us in the comments below.
Listen to A$AP Rocky, 'I Come Apart' Feat. Florence Welch