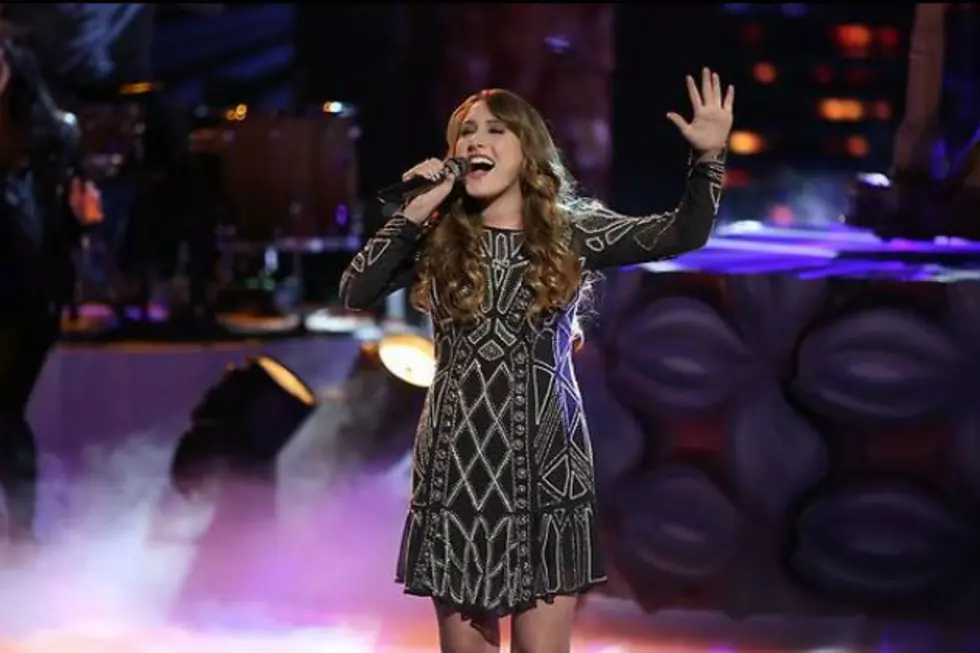 'The Voice' Recap: Cee Lo Says Farewell to Caroline Pennell, Ray Boudreaux Also Gets Eliminated
NBC
Tonight, two more hopefuls left 'The Voice' after another round of eliminations: Caroline Pennell and Ray Boudreaux, and now we're down to the Top 6 contestants.
Ellie Goulding was tonight's special guest performer, singing her song 'Burn' and joined onstage by 'Voice' contestants James, Matthew and Will. The performance was flawless, mostly due to Ellie's overall awesomeness. We also couldn't help but grin at Will's uncomfortable attempt to do choreography, with many awkward hand gestures. It's OK, Will, as long as you can sing, no one cares about your inability to wave your hand around in the air.
After Tessanne called coach Adam Levine an "awesome human being," Carson announced that Will Champlin was the first contestant safe for the night. This came as no big surprise, since we claimed his performance last night to be the standout of the week. If only we could get paid for our many spot-on 'Voice' predictions, we would be very rich indeed.
Then it was time for the Top 8 to gather together, singing the hymn 'Will the Circle Be Unbroken' to bring some festive cheer to the 'Voice' stage. Complete with their own backing choir, the group did a most excellent job, with Tessanne stealing much of the spotlight.
After spreading warm and fuzzy feelings throughout 'Voice'-land, it was time for another contestant to be saved from elimination. This time it was Cole Vosbury from Team Blake, which was definitely a very well deserved save after yet another killer performance last night. And the beard lives to see another day!
Coach Cee Lo then took to the stage with his hip-hop group Goodie Mob, performing their song 'Amy' off of their upcoming reunion album. Even though the coaches are all huge superstars in their own right, there is something so silly and humorous about watching them go from coach to performer in a matter of minutes, as if they can't handle not being in the spotlight for more than an hour. Not only are they coaches, but they can sing and entertain too (in case you forgot)!
The next save was from Team Christina, with Jacquie Lee moving on to next week's live show. Not sure we totally agree with that one, but it appears that America really loves the fiery 16-year-old, and who are we to argue with all of America?
Carson then announced that the Top 3 contestants will be writing a song with OneRepublic's Ryan Tedder. The winner will get to perform the original song, a la Kelly Clarkson circa 'A Moment Like This.' This news was followed by another Top 8 performance of not one, but two OneRepublic songs. Is anyone else out there starting to feel like 'The Voice' is just a huge PR stunt to promote OneRepublic's album?
Back to the remaining five contestants waiting to hear their fate: Tessanne and James moved over to the safe side, leaving Ray, Caroline and Matthew in the bottom three. Matthew likely felt a bit out of place, as he has never found himself in this position before, having been a frontrunner in the competition up until this point. However, his performance last night was not up to his usual standards, and unfortunately, it looks like many voters agreed.
Adam predicted that Twitter users would use their instant save for Matthew, claiming he was shocked to see Matthew in the bottom three. And it looks like Adam is not only the "sexiest man alive" but also, possibly, a clairvoyant, as his prediction came true moments later. This means that Caroline and Ray were sent home, leaving poor coach Cee Lo looking like his dog had just been run over. With Caroline's exit, Cee Lo is now officially out of the competition.
Watch Tonight's 'The Voice' Elimination