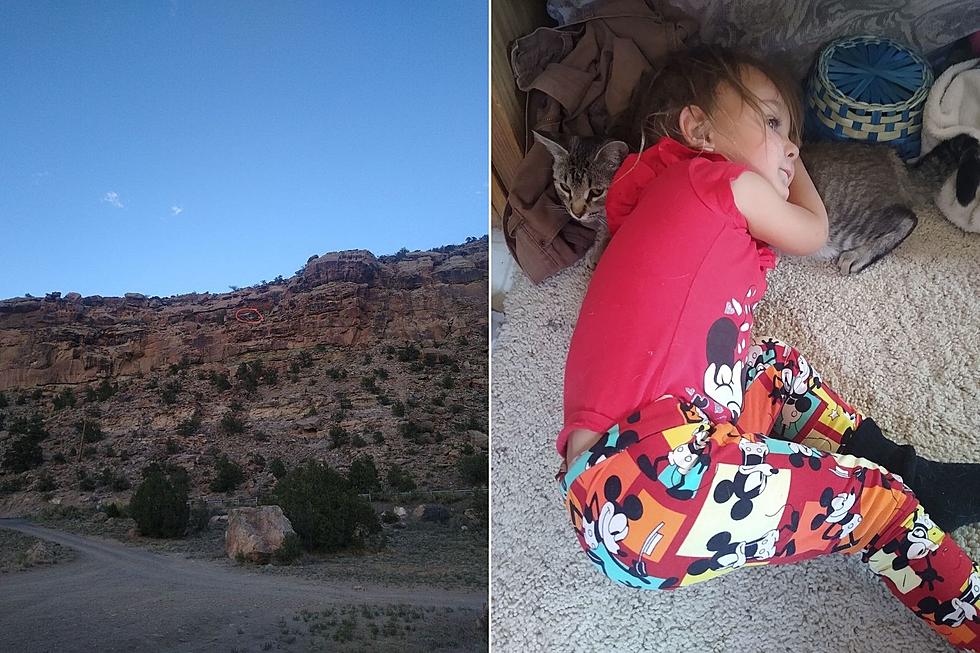 Stranger Climbs Up Cliff to Save Stranded Cat in Unaweep Canyon
Alex Keel
A stranger recently responded to a Facebook post asking for an experienced climber's help. Ryan Cole decided to climb up a cliff to save a stranded cat in Unaweep Canyon.
Alex Keel's cat was stuck on a cliff for two days and he needed some help getting her down. Honey decided to jump through an opening of the screen door of their motorhome on May 28th while they were in Unaweep Canyon.
Alex and his family could hear their poor cat yowling from a cliff and tried to coax her down with no luck. They decided to reach out on the Grand Junction & Western Slope Classified Ads Facebook page hoping to find someone who had more experience with this kind of terrain than them.
Ryan Cole responded and headed out to help immediately even though it was already getting dark. According to Alex, Ryan said that if there's a way that it can be done, he'll be the one to do it. Ryan is an avid hiker and bobcat hunter and was ready to help.
Alex and his family pointed him in the direction of the last place they saw their cat, Honey, and thankfully Ryan found her. Ryan lured her over and into a carrier using some smoked salmon. Alex Keel and his family were so relieved and their 3-year-old daughter was ecstatic to hear she was going to be reunited with her kitty.
30 minutes later, Ryan arrived with Honey in hand and Alex and his family thanked him for his courageous, selfless act of heroism. Alex Keel wanted to include this thank you to Ryan Cole:
Thank you so very much Ryan for your selfless act of heroism toward a complete stranger, and for making our family whole again. We were afraid that we might not be able to get her down, and it broke our hearts and spirits to think that we couldn't do anything more to help her. You saved the day and made a litter girl extremely happy to have her best friend home again.
Here's what Ryan Cole has to say about saving this family's cat from being stranded in Unaweep Canyon.
Stranger Climbs Up Cliff to Save Stranded Cat in Unaweep Canyon
A stranger responded to a Facebook post asking for an experienced climber's help. Ryan Cole climbed up a cliff to save a family's stranded cat in Unaweep Canyon.
Pluto: Meet the Colorado Cat Who Loves to Go on Adventures
Meet the Colorado cat who loves to go on adventures, including hiking, swimming, sledding, and more. Take a look at some pictures of Pluto the cat's adventures.
This Grand Junction Rescue Dog Is a Big Love Bug Who Needs a Home
This Grand Junction rescue dog is a big love bug who needs a forever home. Kyah the super sweet 110-pound dog is up for adoption at a shelter in Grand Junction.
Palisade High Releases Endangered Native Fish Into Colorado River
The Palisade High School Fish Hatchery released their first school of endangered native fish, razorback sucker fish, into the Colorado River.
What It's Like Meeting + Getting Kissed By Colorado Rescue Wolves
A Colorado woman recently met two majestic Colorado rescue wolves. Here's what her experience was like meeting and getting kisses from Colorado rescue wolves.