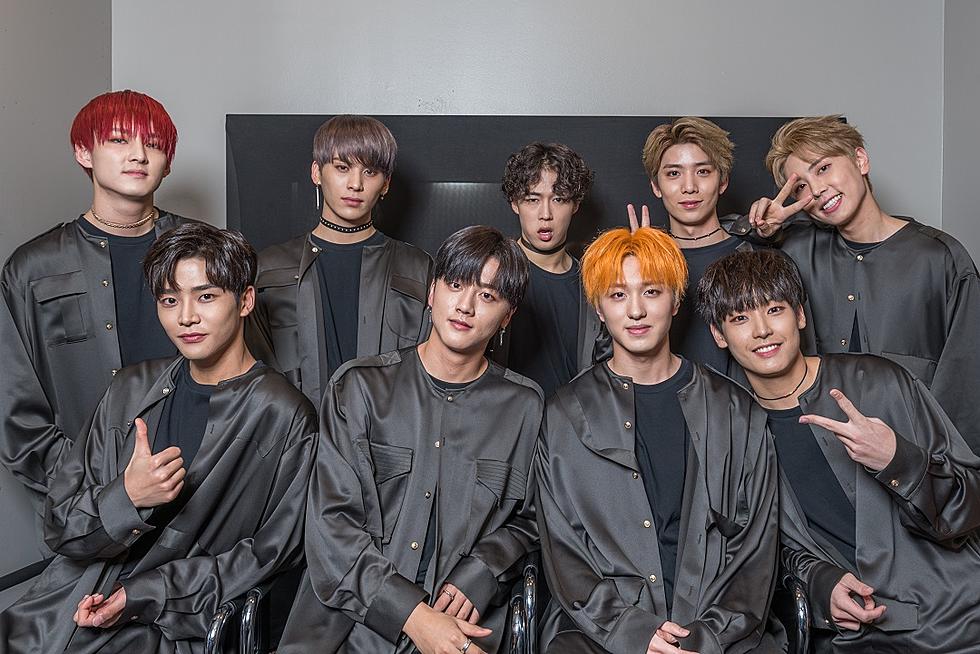 K-Pop Group SF9 Reveals Aspirations to Work With Bruno Mars
FNC Entertainment/SubKulture Entertainment
It's no secret that it's been quite a milestone year for K-pop. Acts like BTS, TWICE, EXO, Red Velvet and more continued to help globalize the South Korean music scene in 2017, while big events like KCON, overseas artist tours and showcases at festivals like SXSW only amplified the West's increased interest in K-pop. Naturally, SF9 got caught up in the mania.

Named "Rookie of the Year" at the Seoul Success Awards on November 27, 2017, SF9 has been one of the most in-demand boy bands since launching in October 2016. Over the past year, the group made their debut in Japan, as well as appeared at KCON in both Los Angeles and New York City. The nine-member ensemble also managed to release three EPs (Burning Sensation, Breaking Sensation and Knights of the Sun) in South Korea, which each release charting on Billboard's Word Album chart.
SF9's early success led to their first ever solo U.S. tour, SF9: Be My Fantasy. Organized by SubKulture Entertainment and FNC Entertainment, the group made stops in Dallas, Seattle and Boston.
During their downtime, we caught up with SF9—Youngbin, Inseong, Jaeyoon, Dawon, Rowoon, Zuho, Taeyang, Hwiyoung and Chani—to talk about their aspirations as a group, personal strengths

Welcome back to the United States! This year you performed at KCON in New Jersey, and now you're back for your own solo tour. How does it feel?
We are so happy to come to the U.S. again for our own fan meeting tour. We first met our American fans at KCON and really appreciated their love and support for us. We will continue working hard and improve ourselves so that one day SF9 might be able to attend bigger events like the Billboard Music Awards in the future.
How would you describe your music?
We would like to describe SF9's music as a rainbow because we're still in the process of making the color of SF9's music. A rainbow is typically made up of seven colors but in fact, there are a countless number of colors in between each. Likewise, we believe that all nine members of SF9 have numerous colors in ourselves that can express many things. We'll try harder to bring those colors forth. We as SF9 promise to keep working hard to show you the endless amount of colors of SF9 in the future.
Your latest single is titled "O Sole Mio," which means "Oh, My Sun" in English. What are some of your individual characteristics that shine?
Inseong: I would say my intelligence shines since I'm the brain of our team. My emotional intelligence, especially, is more sensitive than my IQ. Sometimes I get teary when listening to music.
Jaeyoon: I think that my body shines through. I've been working on my muscles lately. Rowoon and Zuho are the ones who look like models but I'm challenging them by exercising a lot these days.
Dawon: For me, I think that my quick and funny reactions shine!
Youngbin: Actually, we have so many that if we were to list all of them, we'd be up all night!
Before you debuted, some of you performed in a drama series called Click Your Heart. If you could participate in another drama that included all nine members, what genre would it be and who would play what role?
Chani: I would like to act in a movie like the Korean movie Friend, about school life between friends so that we can become friends regardless of our age. That's the important part. [Laughs]
Hwiyoung: I want to try sci-fi with a dramatic story where nine members escape from space to Earth.
Who are your musical inspirations? Are there any western artists you wish to collaborate with?
We get inspired by our fans, FANTASY—someone who loves us, and who we love back, and share hard times together with. So nowadays we want to make a fan song to sing together with our fans. It will be more meaningful if our first collaboration is with our FANTASY.
As for western artists we wish to collaborate with, [one would be] Bruno Mars. Before our debut, we practiced Bruno Mars' songs a lot. So it will be a great honor if we have an opportunity to collaborate with him.
With the popularity of K-pop growing globally and the international breakout of fellow K-pop artists, do you feel any pressure?
Isn't it a good thing that so many K-pop groups are being recognized globally? We would like to see more K-pop artists become recognized in order to spread K-pop more widely! When it comes to music, the more the better. If there are more global K-pop groups, it means that there will be more music we can listen to. As for us, we want to communicate with those who like SF9's own style of music, so we don't really feel any pressure.
What's the greatest thing about touring? Are there any rituals that you guys do to prep yourselves?
The reactions from our fans while we're on tour are awesome. We can really feel the energy. Also when we go on a tour, there's a different type of excitement that's inexplicable. We don't have a special ritual but Inseong always exercises right before the show to boost his energy and to show our fans his best possible body. [Laughs]

The year is coming to an end. What are the most memorable moments of 2017?
2017 was a great year [with us] having our comebacks with "Roar," "Easy Love" and "O Sole Mio." On top of our album promotions, we were able to visit many countries and meet our FANTASY all over the world. Looking back on 2017, it makes us look forward to SF9's years ahead.
You have achieved so much since your debut—you charted on Billboard, starred in dramas and embarked on your own solo tour. What are the "fantasies" you would like to achieve as a group in 2018?
Winning first place on music streaming charts would be one of our fantasies because it means that many people have listened to SF9's songs! Plus, performing in front of a lot of audiences in more countries... That's our fantasy.