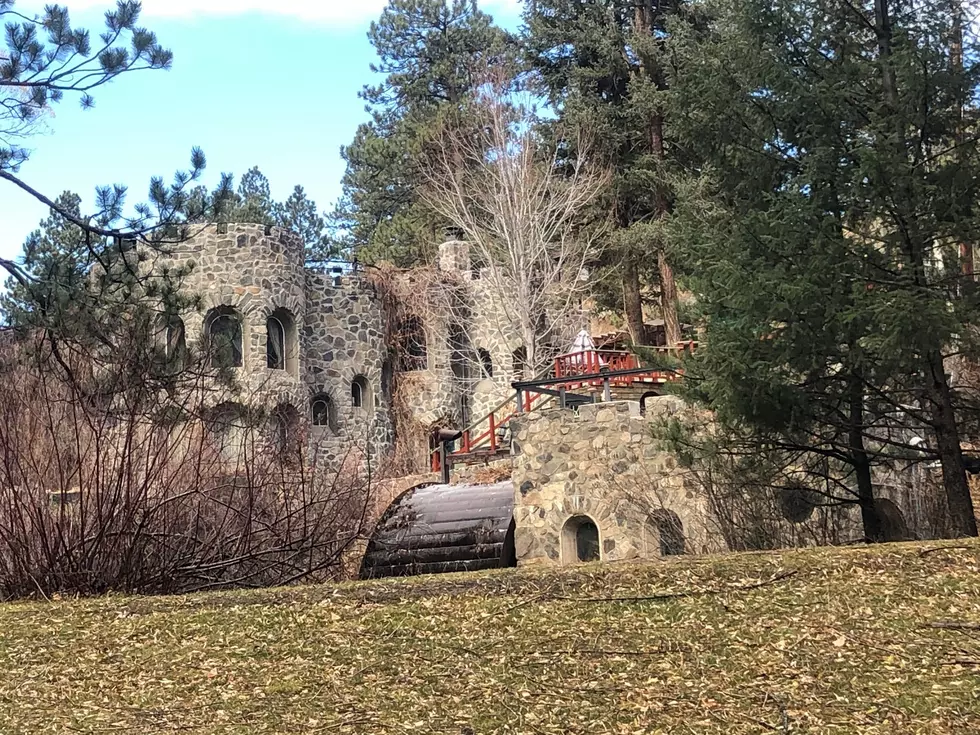 See the Inside of Colorado's Dunafon Castle
Kelsey Nistel/TSM
Six miles west of Morrison, Colorado, tucked away amongst the trees in the middle of the idyllic Bear Creek Canyon, sits a majestic castle.
Colorado's Dunafon Castle looks as though it was plucked directly from a fairytale. The Jefferson County castle sits on seventeen acres with several scenic ponds and lush landscaping.
Construction on the breathtaking building began in 1929. It was designed and built by a water engineer named Marcus Wright. During the construction process, Wright installed a narrow gauge railroad to haul native granite and concrete to the property. Since no electricity was available in the Canyon at the time the castle was being built, Wright fashioned an electrical generating facility using an overshoot water wheel. The historic 21-foot water wheel can still be seen on the grounds today. The massive project was eventually completed in 1941.
The inspiration for Dunafon Castle came from the Celtic castles of the 13th century. Wright incorporated many features that would have been found in those ancient castles, such as bold arches, hidden tunnels, thick rock walls, intricate gargoyles, and double-paned, pivot windows.
Marcus Wright passed away in 1969 and following his death, the castle was acquired by the Barnes family, who also owned the Autorol Computer Mapping Company. However,  members of the Barnes family died in the mysterious Air Egypt Crash, and ownership of the castle changed hands yet again. In 2004, 4th and 5th-generation Jefferson County natives, Michael Dunafon and Debbie Matthews purchased the property and have helped restore the dynamic structure to its former glory.
Nowadays, Dunafon Castle serves as an elegant wedding/event venue. And who wouldn't feel like total royalty getting married in a real-life castle?
Although the website doesn't provide photos of what the interior of the castle looks like, small glimpses can be seen from weddings that have taken place over the last decade.
While much of the castle's character can be observed from its exterior, the inside is also full of old-world charm. Features like large wooden doors, luxurious light fixtures, plus detailed stone walls and fireplaces transport guests back to the Renaissance era.
A former resident of the castle provided a bit more information about the castle's interior layout, explaining where some of the rooms are located and how the basement really felt like a dungeon. He also claimed that Dunafon Castle is haunted, after having several paranormal encounters inside during the 1960s.
Its official address is 4020 Hwy 74 in Idledale.  
Dunafon Castle is built on a peninsula and can be seen from Bear Creek Trail in Lair o' the Bear Park. The impressive stone structure will be on the right side of the trail, separated by an iron gate and the flowing Bear Creek. Read more about that hike below.
Bear Creek Trail to the Castle
Take this easy hike on the Bear Creek Trail to the Dunafon Castle.