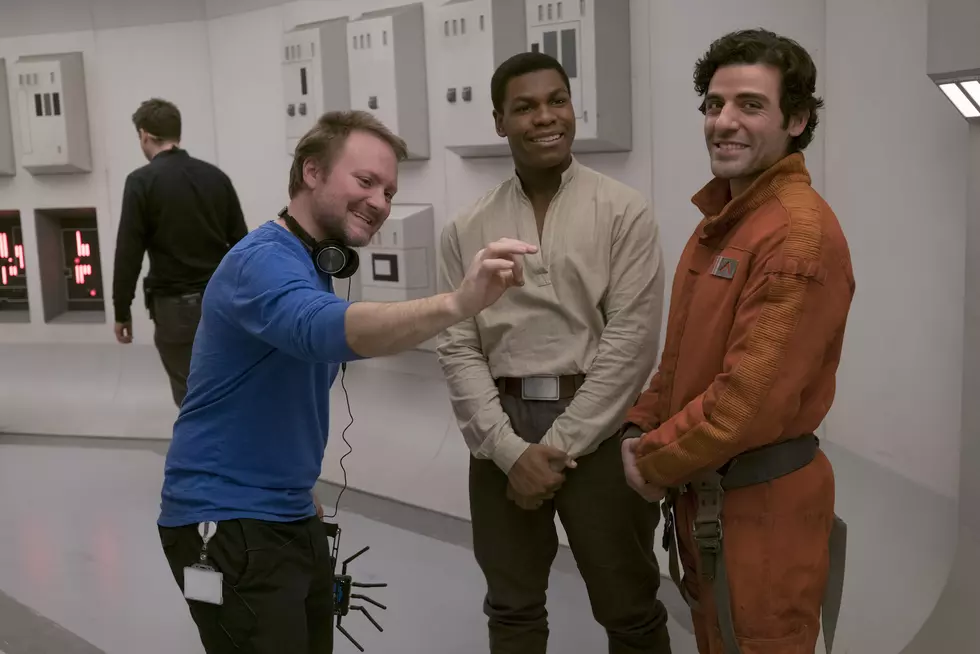 Rian Johnson Is Developing a New 'Star Wars' Trilogy With Brand New Characters
Lucasfilm
Rian Johnson's Star Wars movie hasn't even hit theaters yet and Disney is already inking new deals with the filmmaker. The Last Jedi director has just signed a deal with Lucasfilm to develop a brand new Star Wars trilogy.
Disney CEO Bob Iger announced the trilogy news in an earnings call on Thursday, along with news that the company is developing a live-action Star Wars TV series for Disney's upcoming streaming service. Johnson's trilogy will be "separate from the episodic Skywalker saga," according to the official Star Wars website, and it will introduce new characters "from a corner of the galaxy that Star Wars lore has never before explored." Whoa, OK! So I guess he won't be helming that Obi-Wan spinoff or any other rumored prequels. Lucasfilm president Kathleen Kennedy went on to praise working with the director for The Last Jedi:
He's a creative force, and watching him craft The Last Jedi from start to finish was one of the great joys of my career. Rian will do amazing things with the blank canvas of this new trilogy.
Producer Ram Bergman, who worked on the new film, will also re-team with Johnson for the trilogy. Johnson and Bergman said in a statement:
We had the time of our lives collaborating with Lucasfilm and Disney on The Last Jedi. Star Wars is the greatest modern mythology and we feel very lucky to have contributed to it. We can't wait to continue with this new series of films.
Lucasfilm must have total faith in their director to announce this news ahead of The Last Jedi's December release. And the announcement makes sense considering just recently Kennedy revealed the studio was in the midst of planning 10 more years of Star Wars movies, and exploring areas the franchise has yet to go.
That's all we know about this new mysterious trilogy, but Wall Street Journal reporter Ben Fritz tweeted that the trilogy would likely happen after 2020. Until then we've still got the Han Solo movie on May 25, 2018, and J.J. Abrams' Episode IX, set for 2019.
The Last Jedi hits theaters December 15.
Gallery – A Visual History of Star Wars Movie Posters: