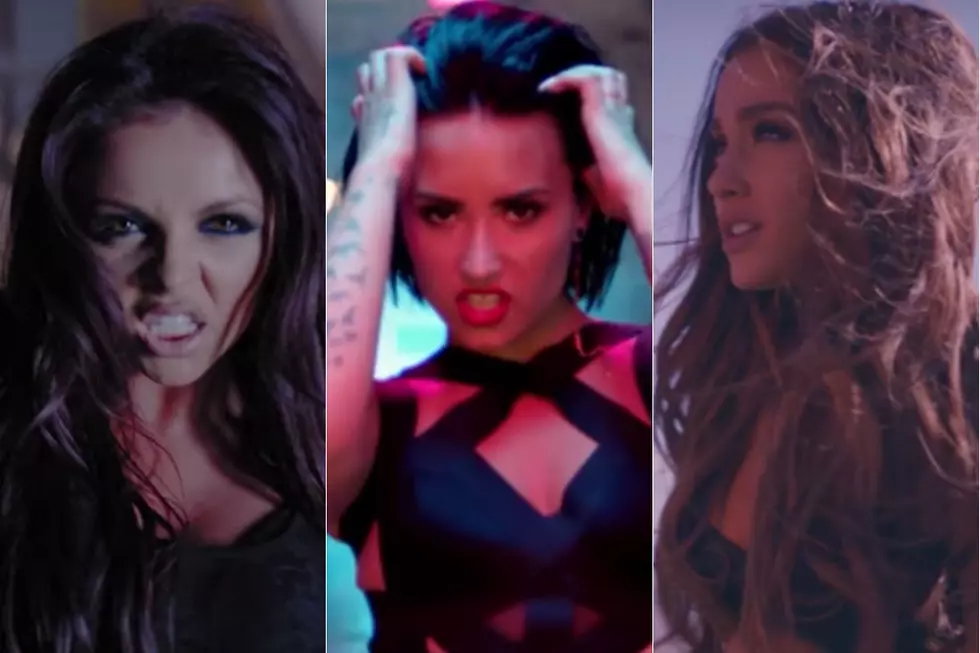 11 Sure-Thing Pop Songs That Should've Been Bigger, From 'Into You' to 'That's My Girl'
YouTube
While some hits are certainly unexpected (Who saw "Cheerleader" coming, and did anyone predict "Black Beatles" could have such staying power?), there is a formula that seems to typically work when it comes to forecasting a single's winning potential. If a song's big and anthemic ("Born This Way"), spring-loaded with nostalgia ("Teenage Dream") or something tailor-made for dance floor affairs ("We Found Love"), it's pretty much bound for success. There's a reason "Call Me Maybe" kept a firm grip on the top spot for nearly three months, and the success of "Happy" was no happy accident.
Still, for every rule, there are exceptions, and where pop music is concerned, countless releases have fallen short of their destinies, and didn't strike nearly as decisively as they probably should have been (in some cases, they didn't even chart at all). And so they don't continue to fall through the cracks, we're giving them some long overdue credit.
Below, we've catalogued a collection of songs — from Ariana Grande's "Into You" to Demi Lovato's "Cool for the Summer" — that were home run-worthy but, regrettably, found themselves trapped in the bleachers. Take a look, listen to the No. 1s that could have been and if there's another single you think was unjustly overlooked, be sure to share it in the comments.
1

'That's My Girl,' Fifth Harmony

That the song only reached No. 73 on the Billboard Hot 100 is pretty inexplicable — it's got a huge, booming hook, relentless bluster and harmonies that double as battle cries. Watcha waitin' for, consumers?

2

'Into You,' Ariana Grande

The second single off of Dangerous Woman could have razed a wildwood, but somehow, it barely cracked Billboard's Top 20 (and that was only after an iTunes promotion). As far as pop-songs-that-should-have-been-bigger are concerned, this one is pretty much tops — who could forget that bass line!

3

'Dancing on My Own,' Robyn

For pop fiends, the song's a verifiable classic, but among the masses, the Body Talk Pt. 1 single remains mostly unrecognizable. It's got the staccato punch of an MMA fighter landing a dizzying combo and the type of flashy melancholy that's perfect for fans of the happy-to-be-sad genre. In short, it's a hit that never was...

4

'Run Away With Me,' Carly Rae Jepsen

The Emotion track perpetuates nostalgia like the glint of a class ring, and is just as polished. Perhaps the best track in Carly Rae Jepsen's catalog — and universally critically acclaimed — it would never even crack Billboard's Hot 100, proof that sometimes, consumers simply cannot be trusted.

5

Pretty much any Little Mix song belongs in this space, and while the four-piece girl band continue to rack up No. 1s elsewhere in the world, they still have trouble connecting with American audiences. "Salute" captured the same electric boom of Kelly Clarkson's "Stronger," but while Clarkson enjoyed a No. 1 hit, Little Mix were a proverbial fallen pop-tree in the forest.

6

'I Will Never Let You Down,' Rita Ora

The song debuted at No. 1 on United Kingdom charts upon its 2014 release, but the United States hardly received it so eagerly — it'd only reach No. 77 on the Hot 100. It's got synth that could make a glitter-bomb blush, and still, it went mostly unheard, even with the proven success of Calvin Harris production.

7

'Piece of Me,' Britney Spears

Many consider the Blackout track Britney's best, and there's no doubt it has stood the test of time, but — when you really stop to consider the analytics — the song barely broke Billboard's Top 20. The New York Times called it "brilliant," but the commercial success was B-minus at best.

8

The contentious girl group's 2013 comeback was mostly eclipsed by controversy (there were rumors of physical fights and police intervention), but the lead DK3 single still deserved better. "Misunderstood, but I'm always on your mind," the ladies sing across verses in a case of particularly unfortunate irony.

9

'Happiness,' Alexis Jordan

The BBC starkly proclaimed upon the track's 2010 release: "If Madonna had put this out, it would be hailed as one of the best songs of her long and varied career." Unfortunately for Jordan, there was no comparable built-in audience, and while the song did well on niche dance charts, its journey — like that of Jordan's career — was pretty much a flash in the pan. And it's a shame, because the "Happiness" progressions serve as pure, spring-loaded joy.

10

'Everything is Embarrassing,' Sky Ferreira

Ferreira's got an avowed indie following, but if there were ever a track that could have catapulted her into the mainstream, it was the 2012 track. "Everything Is Embarrassing" offers the wistful quality of a summer breeze paired with the impending doom of looming winter, and Pitchfork hailed it as one of the best songs of the first half of the decade.

11

'Out of the Woods,' Taylor Swift

Trying to argue that 1989 didn't make an impression on the pop scene would be a losing battle, but amid the album's No. 1 hits, "Out of the Woods" — potentially Swift's best track to date — barely scratched the Top 20. Perhaps it was the fault of Swift-fatigue, but the song is miles better than "Shake It Off" and "Style."