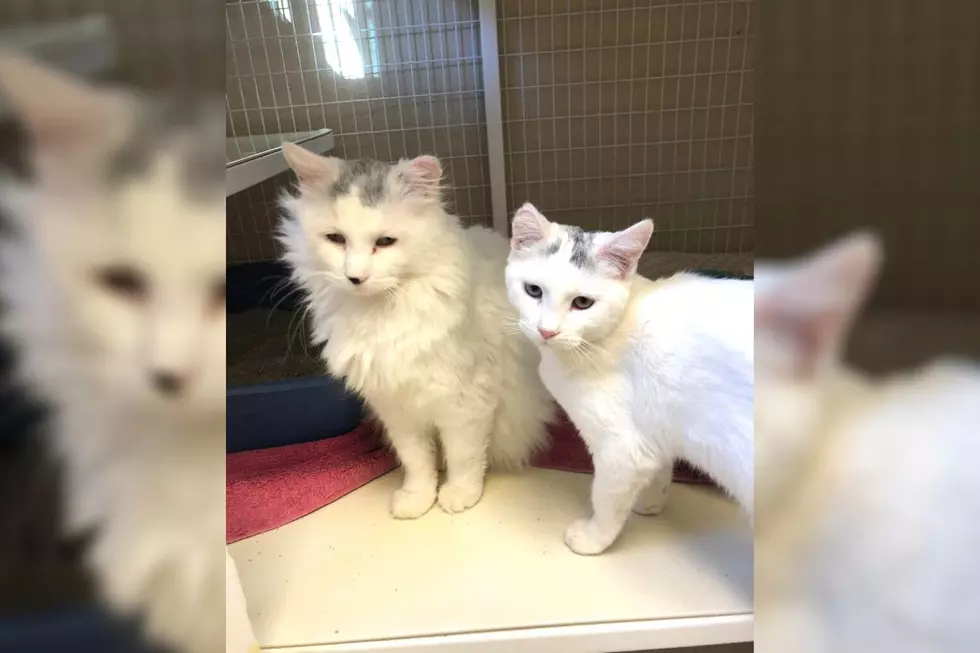 Mix 104.3 Pet of the Week: Dynamic Duo Leon + Mathilda
Roice-Hurst Humane Society
This week we have two pets as are our Mix 104.3 Pet of the Week. Meet cats Leon and Mathilda, the dynamic duo who are up for adoption now in Grand Junction.
We get paid to go play with animals every Tuesday and we like to call it the Mix 104.3 Pet of the Week. Tuesdays at 2 p.m. we feature an adoptable pet from Roice-Hurst Humane Society in hopes of finding them their furever home.
Enter your number to get our free mobile app
This week we're lucky to have not just one Pet of the Week, but two. Meet Leon and Mathilda, who are two beautiful almost all-white cats. We're calling them the dynamic duo because these two kitties are so bonded that they must be adopted together.
Leon
Leon is actually Mathilda's dad and is almost 4 years old. He's neutered and has long white hair, with a bit of grey. Leon loves to play, just like his daughter, Mathilda, who is also our Pet of the Week.
Mathilda
Mathilda is a little under a year old, she's spayed and has short hair. She is also almost completely white, with some touches of grey on her face. Both of these adorable kitties have gorgeous green eyes and are in need of someone to take the dynamic duo home.
The Mix 104.3 Pets of the Week can be shy at first, but open up more and more as they get treats. Leon and Mathilda are independent cats who enjoy doing their own thing, which we can relate to.
They love to play and are waiting at Roice-Hurst Humane Society in Grand Junction to play with you. Find out more information about adopting the Mix 104.3 Pets of the Week here.
Weird Smells That Grand Junction Likes