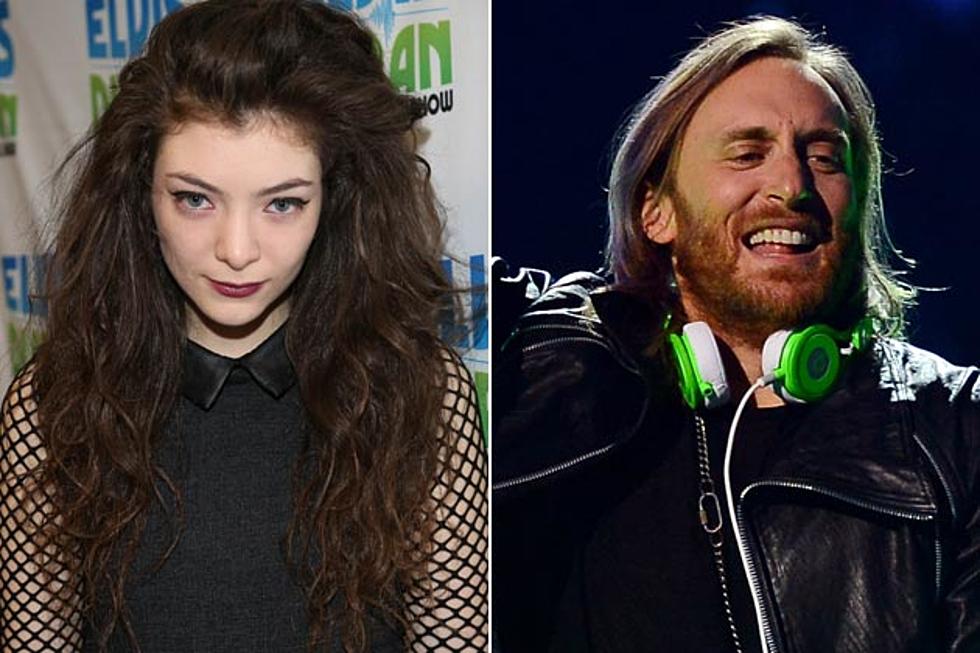 Lorde Not Interested in Working With David Guetta Because 'He's Gross'
Rob Kim / Ethan Miller, Getty Images
David Guetta is pop-EDM royalty, a producer and DJ that most artists would sever a limb to work with, since he is known for being a hitmaker who teams up with the top of the pops!
One artist not keen on getting into bed, musically speaking, with the French superstar? Oh, none other than Lorde. Guetta will never be "royal" in her eyes!
In a new profile, the New Zealand-born singer, 16, is told by her manager that Guetta has expressed interest in her making an appearance on his next album. Rather than accepting what should be considered a compliment, Lorde shut it down, saying, "No. F--k no. He's so gross."
So don't expect a powerhouse, Lorde x Guetta collabo coming down the pike.
Lorde has quickly developed a reputation for saying what she thinks about the artists that dot the pop landscape alongside of her. Remember, the Kiwi singer with the wild mane of curly hair is all of 16, so she might not have a filter and says what she thinks, instead of reciting a canned answer force-fed to her by a publicist.
At this point in her career, Lorde doesn't need to compromise or do mainstream features just because an artist may come calling and request her services. Maybe she'll change her mind down the road. Or not.
Given Lorde's past statements about Taylor Swift and Selena Gomez, we need PopCrushers to weigh in and to tell us their opinion. Do you think Lorde needs to STFU or do you applaud her for speaking her mind and doing her thang?