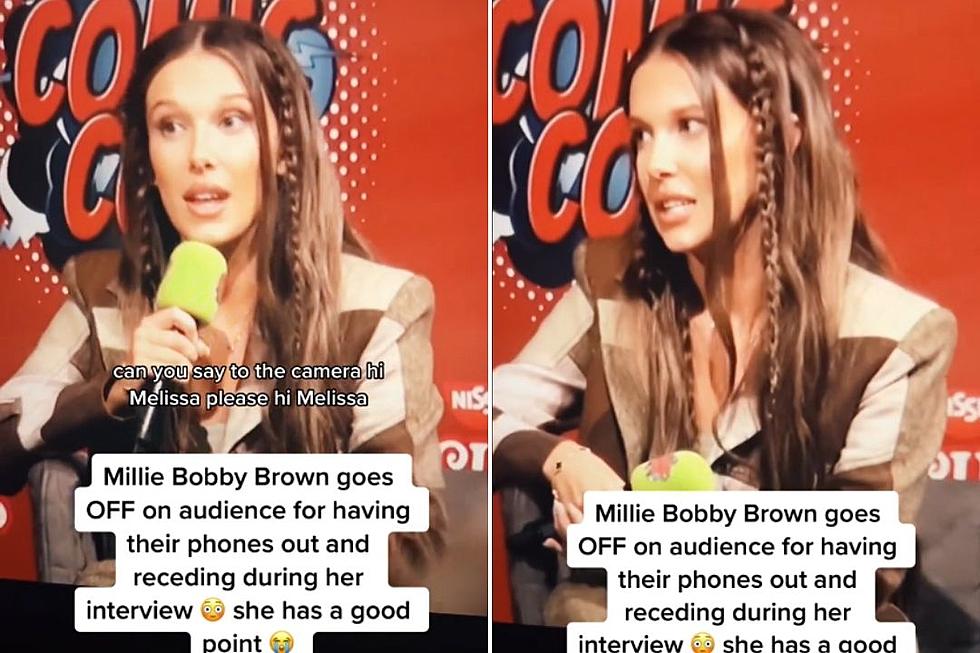 Millie Bobby Brown Fans Torn After 'Stranger Things' Star Calls Out Con Attendees for Being on Their Phones
@dannydoesntknow via TikTok
Millie Bobby Brown fans are divided after the Stranger Things star seemingly appeared annoyed by fans' phone use at a recent convention.
Brown was doing a Q&A panel at German Comic Con in Dortmund, Germany on April 29 when she seemingly became agitated by requests from fans to record messages, as well as the amount of fans on their phones in the audience.
A viral TikTok video posted May 9 shows the actress scolding the audience after a fan, who is recording on her phone, asks Brown to say hello to someone named Melissa.
"Hi Melissa! There we go!" Brown says, making an exaggerated waving gesture before telling the crowd, "You have to live in the moment. Put your screens down. Live in the moment."
Watch below:
In the comments section, some viewers criticized Brown for appearing "annoyed" and "like she [didn't] want to be there."
"When a celebrity begins to talk down to their fans it isn't a good sign," one user commented.
"Naw I'm sorry but those fans probably paid a lot of money to be there so they should be able to do what they please w their phones," another wrote.
"I guess she forgot all these people payed to see her," someone else commented.
"I get she was frustrated but the way she reacted absolutely embarrassed this particular fan who was being nothing but polite," another viewer shared.
Others, however, defended the star and empathized with her effort to set some boundaries.
"She went OFF? Lmao she politely asked," one fan wrote.
"She was so annoyed. I'd be too. The majority of the people didn't even have questions," another commented.
"The reasons she's saying it is because it was a q+a and everyone kept coming up and saying can you say hi to my camera and confessing their love to her," someone else explained.
"A lot of [people] go to stuff like this and only think about how many likes their video might get. Experiencing real life from behind a screen is wild," another user wrote.
READ MORE: 'She's 19' Trends on Twitter After Millie Bobby Brown Engagement
During the Q&A, Brown, who got engaged to Jon Bon Jovi's son Jake Bongiovi in early April, was also asked to show off her engagement ring, which she did while happily beaming.
When another fan asked who Brown considers a better kisser, Finn Wolfhard (Mike Wheeler in Stranger Things) or Louis Partridge (Lord Tewkesbury in Enola Holmes), the actress instead shouted "Jake!" — her fiancé.
The topic also turned to Taylor Swift at one point as Brown was asked several questions about the pop star.
When asked to name her favorite Swift song, Brown shouted out the 10-minute version of "All Too Well." She also named Midnights and Evermore as her favorite Swift albums.
Celebrities Who Are Supposedly Rude to Fans