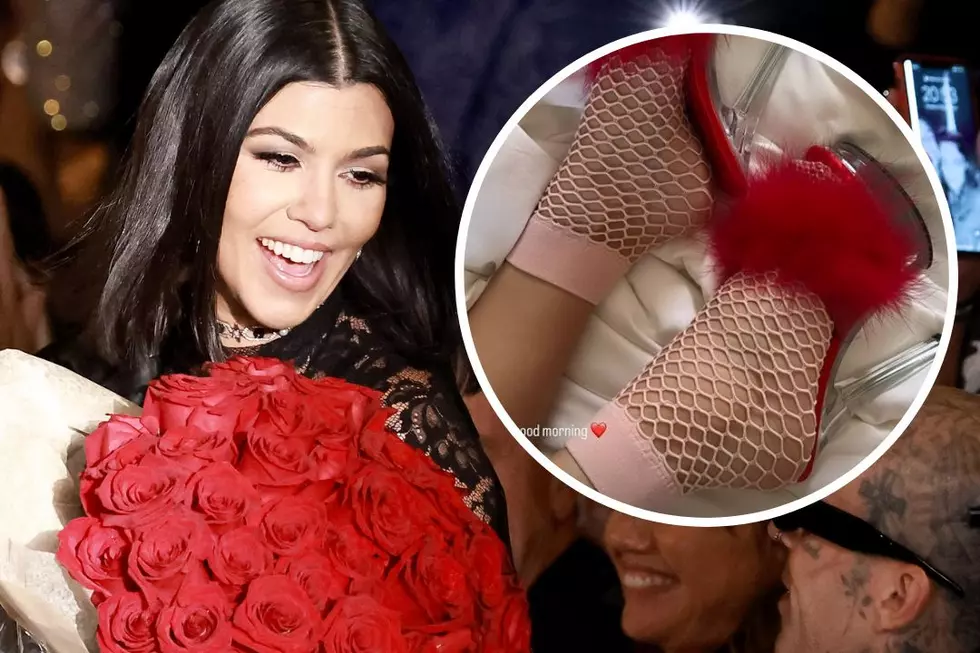 Kourtney Kardashian, Miley Cyrus and More Celebrities Celebrate Valentine's Day 2023
Arturo Holmes, Getty Images / @kourtneykardash via Instagram
It's the season of love, and celebrities are sharing their Valentine's Day 2023 celebrations on social media!
Some celebs loved themselves today (Feb. 14), such as Miley Cyrus, who referenced her smash hit single "Flowers" by tweeting, "I can love me better."
Halle Bailey embodied Valentine's Day energy with photos of herself wearing red lace and peeking between red curtains.
On his Instagram Story, Chris Evans sent love to his girlfriend, Alba Baptista, with an adorable montage of photos and videos showcasing their relationship.
Kourtney Kardashian was in a luxurious mood, as the Kardashians often are, and greeted the day with a shot of her pink fishnets and red, feathered heels from bed.
Whether they celebrated with self-love, cupcakes, roses, stuffed animals or even Martha Stewart's special heart-shaped cookies, the stars spread their Valentine's Day spirit far and wide on social media.
Some celebrated their partners, such as Kelly Rowland, who tweeted a sweet tribute to her "forever Valentine." Others dropped gifts for their fans, such as Dermot Kennedy, who posted a video singing with a piano backing him. Fletcher even surprised fans with new Valentine's Day merch, including underwear.
Others saluted the single life — and some didn't remember the holiday at all. BTS' Suga announced that he forgot the holiday in a live stream Tuesday morning during his solo tour announcement.
"I came today 'cause it's Valentine's Day... I didn't even know it was Valentine's Day... Since I've gotten older, I don't know when it's Valentine's Day or not," he said, according to a fan translation.
Below, check out how these and more celebrities celebrated Valentine's Day 2023 on social media:
Totally Random Celebrity Couples You Never Knew Dated