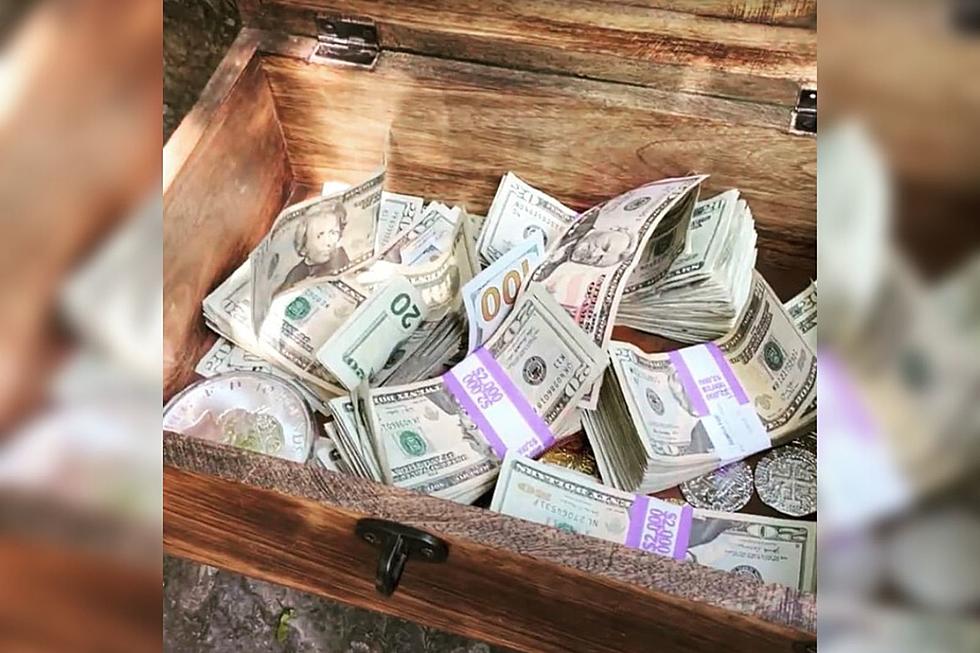 Hidden Treasure: There's a Chest Full of $10,000 Cash in Utah
the.cline.fam via Instagram
There's a hidden treasure chest in Utah that's full of $10,000 in cash and here's how you can find it.
These awesome people in Utah, John Maxim and David Cline, have buried money out in the wild yet again. These guys have buried treasure before, last year it was $5,000 and this year it's $10,000, according to KDVR.
Last time their hidden treasure was found in the mountains in four days and we wonder how long it will take this time. John and David have buried a treasure chest full of $10,000 somewhere near Salt Lake City, Utah, roughly between Ogden and Mt. Nebo.
They are giving one clue per week and below is the first one which states:
Begin your search where hikers rest
Majestic slopes all facing west
Through the tunnel of emerald green
Follow the river creek of spring
When the black bird clicks turn to port
If you reach the end you've come up short
Begin to climb when your path swings north
Picking your way back and forth
Soon you'll find you're not alone
Greet the bear made out of stone
Along the bottoms of the cliffs is key
The chest awaits beneath the tree
With treasure in hand, enjoy the views
The sun kissed reds and salty blues
Thi hidden treasure chest full of $10,000 in Utah is hidden somewhere in the woods and according to John Maxim and David Cline, most people of the age of 12 will be able to get to it.
If you plan on looking for this hidden treasure in Utah keep us posted on your journey. You can find out more about the 2nd Annual Treasure Hunt and see all of the rules and how to get the clues here.
Watch: Person Paraglides Over Colorado River in Grand Junction
Watch this person do some powered paragliding over the Colorado River, and skim the water, in Grand Junction.
Unique A-Frame Nestled in Canyon 45 Minutes From Grand Junction
This unique A-frame is nestled in a canyon just 45 minutes away from Grand Junction. Take a look at the Thimble Rock Point A-frame Airbnb in Mesa County.
Iconic Grand Junction Bed & Breakfast For Sale For $1.5 Million
This iconic bed and breakfast in Grand Junction is currently for sale for $1.5 million. Here's a look at Willow Pond estate which was built in 1898.