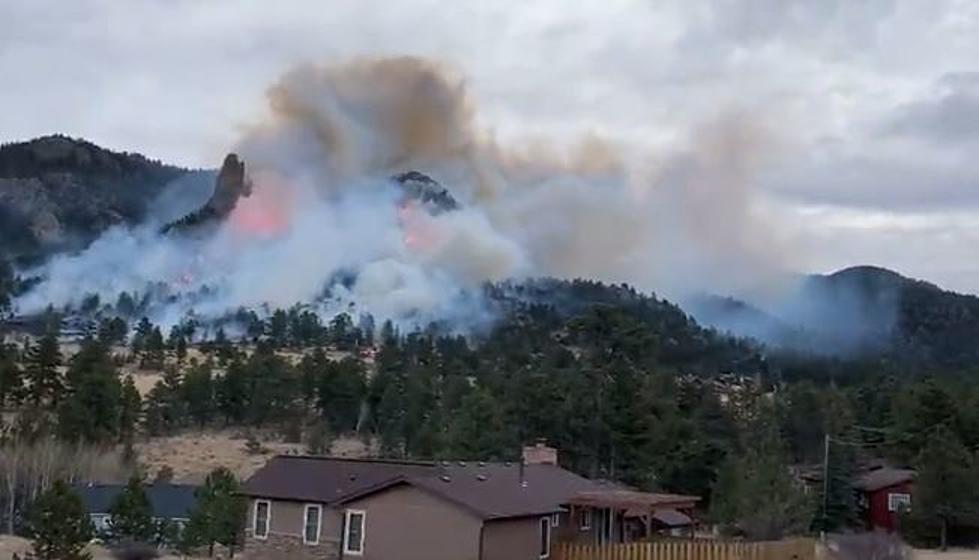 Estes Park Colorado Residents Show Closeness of Kruger Rock Wildfire
@copswan, Instagram
If you smell smoke today, even as far as Windsor and Greeley, it's because of smoke from a new wildfire that is burning near Estes Park. Just how near? Too near.
According to CBS4's Dillon Thomas, investigators think they now know the cause of the wildfire: powerlines. As of Tuesday afternoon, the fire was 11 percent contained and had burned over 115 acres. It also posed a threat to structures in the area, as crews feared the fire could jump US-36.
Residents and responders in the area have shared how close the fire is to the town of Estes. Eric Harrington said that high winds in the area were fueling the blaze.
Colorado Storm Chasers reported wind gusts up to 30 miles per hour.
If you live in Estes (or anywhere), this is not what you want to wake up to. Residents in the area are evacuating.
Tay Austin shared how to evacuate with your animals... all of them.
This video shows just how close the fire is to peoples' homes.
And the smoke can be seen all way down to the Denver Metro area.
In November of 2018, the Camp Fire in California, which destroyed the entire town of Paradise, was also started by an electrical line and high winds.
In October of 2020, the town of Estes Park was also under evacuation orders, as it was threatened by the East Troublesome Fire, which became the second-largest wildfire in Colorado history. The cause of that fire has not been determined.
All of the Pictures of the Pine Gulch Fire You Sent Us
2020 Cameron Peak Fire
Grand Valley Residents Share Their Ash-Covered Photos
The Grand Valley woke up to another dusting of ash from the
Pine Gulch Fire
this morning and they shared their photos with us.
Air quality in the Valley is unhealthy for sensitive groups due to smoke and ash in the air.
We received photos from all around the Grand Valley including Grand Junction, Fruita, Palisade, and even as far south as Delta.
Take a look at the amazing photos.