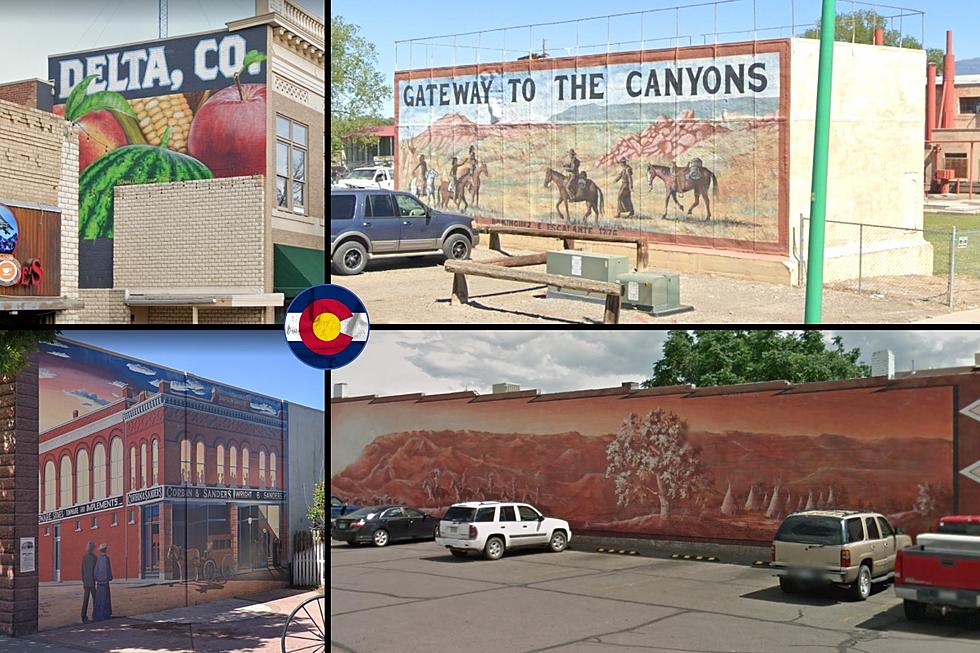 Check Out 22 Cool Reasons Delta is Colorado's 'City of Murals'
Canva Pro
Did you know that a road trip through Western Colorado is also a really cool way to see the work of some very talented muralists? A drive from Mesa Verde to Dinosaur National Monument will take you through several towns featuring unique murals painted by local artists.
Of all the towns you'll pass through, Delta has become Colorado's most famous 'City of Murals'. Keep going to see photos of each mural, and learn more about the people who painted them and the story each painting tells.
How Did Delta, Colorado Become The City of Murals?
You just can't beat a good idea. The city of Delta applied for an urban renewal grant in the mid-1980s. They used some of the funds to invest in local artists painting murals in some of the common areas in town. One after another, the murals were a hit. Each one tells part of the story of life on the Western Slope from the West Elk Wilderness to the Canyonlands that extend into Utah.
How Many Murals Are in Downtown Delta?
You'll find more than twenty murals in downtown Delta. Some have been added in the last couple of years while others date back to the late 80s.
Where Do I Find the Murals in Downtown Delta, Colorado?
Most of downtown Delta's murals are within walking distance of each other between 1st and 12th Streets. A few are located off the beaten path like the mural depicting the arrival of the railroad in Delta at 1st and Crawford. There is another mural near 6th and Silver Street in tribute to Delta's Old No. 17 which took the first train cars of coal from the city in 1903.
See All 22 of Delta, Colorado's Downtown Murals
The city of Delta, Colorado came up with a great idea back in 1986 to dedicate the sides of several historic buildings throughout the downtown area as a space for murals and public art. Have you seen all twenty-two murals in downtown Delta? Well, you can now.
MORE: History of Grand Junction, Colorado: From Frontier Town to Small City
If you came to western Colorado in 1880, you probably never would have guessed how the valley would look in 2023. Check out a timeline of significant events that brought Grand Junction from the frontier to a small city from 1880 to 1900.
MORE: Delta, Colorado Airbnb Offers A Stay In A 1916 Columbine Schoolhouse
Escape to Delta, Colorado's Columbine Schoolhouse Airbnb rental which sits between the Grand Mesa and the San Juan mountains to the south.