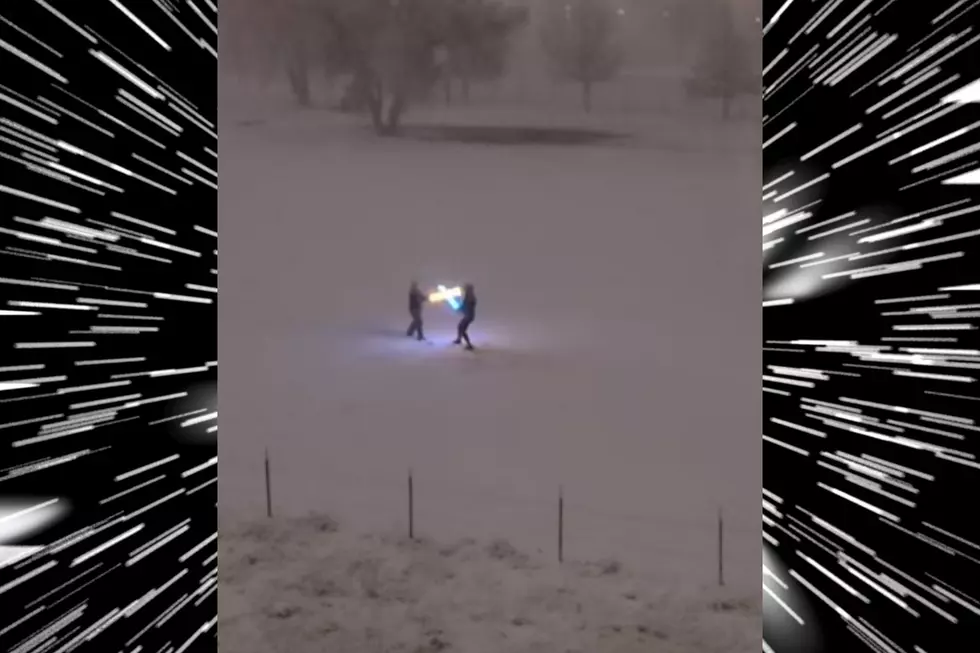 Watch: Coloradans Have a Lightsaber Fight in the Snow
Anghelie Elizabeth via Facebook
Coloradans know how to make the most of winter weather, and here's the proof. People in Colorado have fun in the snow by snowboarding, tubing, skiing, and these Coloradans were caught on camera making the most of the snow in a different and very entertaining way.
Anghelie Elizabeth posted a video of two Coloradans fighting with lightsabers in the snow. The force is definitely strong with these ones as you can see by watching the video of them fighting below.
Here what Anghelie said about the video:
Only in Colorado can I stand on my balcony and see two men fighting with lightsabers, in 30-degree weather while it's snowing outside.
The two Coloradans look like they're having a great time with their blue and orange lightsabers in the snow. They even pause to talk to each other while showing off some sick Jedi-status moves with their lightsabers.
This video was shot in Denver around 7 p.m. on Friday, February 20, 2021, and Angehelie says she only caught the end of it. This makes us wonder just how long they were outside in the snow-fighting each other with lightsabers.
Anghelie told us that she was laughing a whole lot while watching these Coloradans fight each other with lightsabers in the snow. She says her lightsaber is currently in the mail and after watching the video below, we want a lightsaber too.
When it comes to lightsaber fights in the snow in Colorado and everything else in life, as the wise Yoda once said, 'Do or do not. There is no try.'
LOOK: TV Locations in Every State