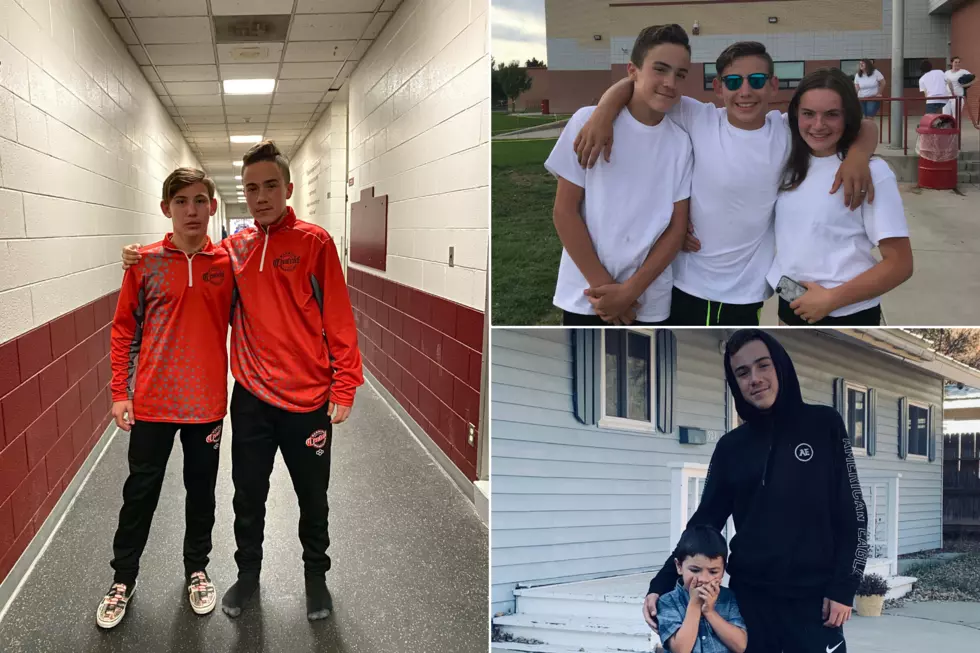 Ashtyn Trujillo: Central Student Talks Sports, BFFs + Motivation
Townsquare Media
14-year-old Ashytn Trujillo is a freshman at Central High School. He's lived in the Grand Valley for the past seven years and he has two sisters and a brother.
Ashtyn is a very athletic person who is on the football team, wrestling team and track & field team at Central High School. He says playing football is his favorite because it brings out his true colors. He says he's a competitive person -- Ashtyn loves winning. He loves to snowboard at Powderhorn and loves to go fast as he can and jump as high as possible
Enter your number to get our free mobile app
Ashtyn's best friends are James Montoya and Bailey West who are also freshmen at Central. According to Ashtyn, they're real ones and they're both on the track & field team. He considers his besties a part of his family and vice versa. Ashtyn says he makes a lot of friends being a part of Central's sports teams.
He says he loves to listen to music while he warms up because it pumps him up and gets him ready to win. A lot of the music on Ashtyn's Warm-Up Spotify playlist (which you can jam up to below) are fast-paced songs and include artists like Post Malone and 2 Chainz.
Q: What's your favorite part about going to Central?
A: Being a part of the STEM program, which is for engineering and stuff, and you can take advanced level classes. And you can also get college credit.
Q: What's your least favorite part about going to Central?
A: The teachers. They're just slow-paced people and things like grading takes forever, I feel like the teachers should be able to keep up with the students.
Ashtyn says that Coach Clint Trujillo is one of his favorite coaches at Central. Coach Trujillo got him into wrestling and he's a good motivator. He speaks from a place of experience and he's an all-around great guy. Ashtyn's coach also got him into some of the music he currently listens to (and warms up to) which you can see below.