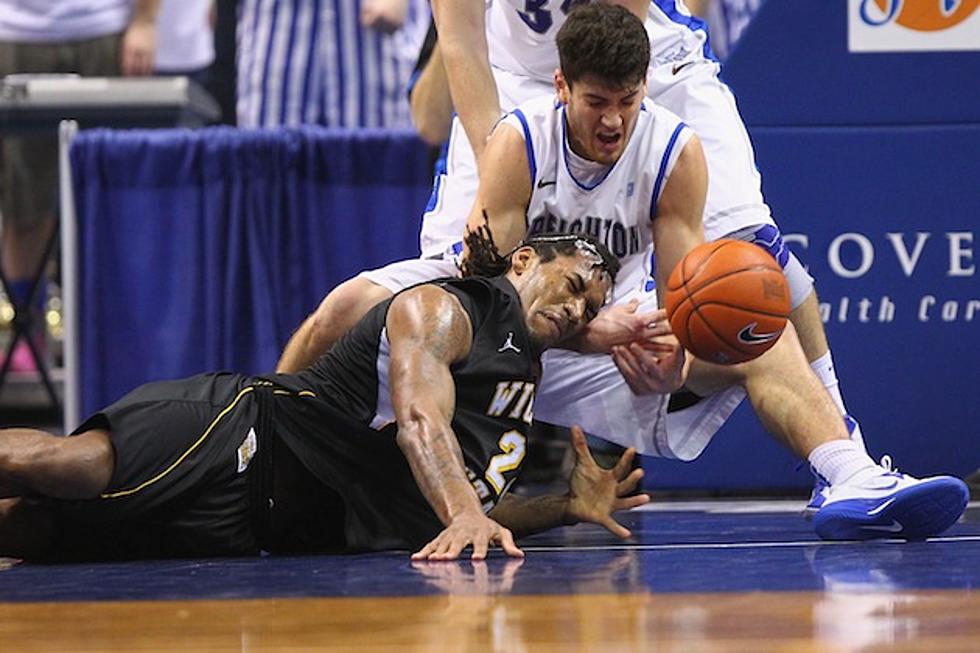 2013 NCAA Tournament Report — Creighton Among 5 Teams To Win Automatic Bids
Dilip Vishwanat, Getty Images
Creighton, Liberty and Harvard were among the first five teams to qualify for the 2013 NCAA men's basketball tournament via automatic bids they received for winning their conference championships this weekend. Here's a recap of the conference championships:
Missouri Valley Conference Championship: Creighton 68 — Wichita State 65
Jahenns Manigat scored 16 points, including a layup with 11 seconds left, and Creighton beat Wichita State, 68-65, and won its second straight Missouri Valley Conference tournament title at St. Louis on Sunday. The victory gave the Bluejays (27-7) an automatic berth in the 2013 NCAA tournament. Creighton's high-scoring Doug McDermott was named the tournament MVP, despite being held to just 14 points on Sunday.
Big South Conference Championship: Liberty 87 — Charleston Southern 76
John Caleb Sanders scored 27 points and conference tournament MVP Davon Marshall added 20 more as Liberty beat Charleston Southern, 87-76, on Sunday in Conway, S.C. to win the school's first Big South Conference tournament title and an automatic berth in the 2013 NCAA tournament. The victory makes the Flames (15-20) just the second 20-loss team ever to make the NCAA men's field. Coppin State's 2008 team had 20 losses, as well.
Ivy League: Harvard 65 — Cornell 56
Laurent Rivard scored 17 points as Harvard beat Cornell, 65-56, in Cambridge, Mass on Saturday. Princeton's 80-67 loss to Brown minutes later gave the Crimson (19-9) a third consecutive Ivy League title and an automatic bid to the 2013 NCAA tournament. The Ivy League is the only conference that awards the bid to its regular-season champion.
Ohio Valley Conference Championship: Belmont 70 — Murray State 68 (OT)
Kerron Johnson's jumper in the lane with 1.2 seconds left in overtime allowed Belmont to beat Murray State, 70-68, and win the Ohio Valley Conference tournament title in Nashville, Tenn. on Saturday night. Belmont (26-6) received the OVC's automatic bid to the 2013 NCAA tournament as a result of the victory. J.J. Mann had 18 points for the Bruins, who needed another jumper from Johnson at the end of regulation just to force overtime. Isaiah Canaan had 22 points, 10 assists and nine rebounds for Murray State.
Atlantic Sun Conference Championship: Florida Gulf Coast 88 — Mercer 75
Brett Comer scored 21 points, and Florida Gulf Coast beat heavily favored Mercer, 88-75, to win the Atlantic Sun Conference tournament title in Macon, Ga. on Saturday. With the win, the Eagles became the first team to make the 2013 NCAA tournament. Florida Gulf Coast (24-10) is only in its sixth year as a Division I program. This is its first appearance in the NCAA tournament.